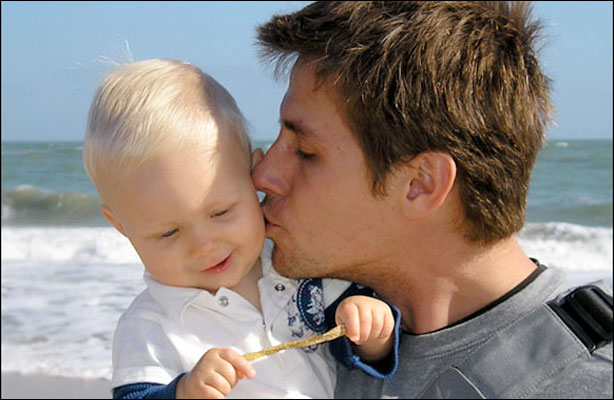 It's incredible to me that in the course of my lifetime I've witnessed the changing roles of men in the home. The diaper dude effect, as I call it, has influenced men to step up their game around the house, starting with the diaper changing. Whether this role reversal is the result of a weak economy or the fact that women are working longer hours, it's heartwarming to see men creating lasting bonds with their kids thanks to diaper duty (no pun intended!).
In a survey of parents by Pampers last year, nearly 70 percent of men responded that they changed diapers just as often as their wives. And 11 percent said they changed more diapers. A different study found that men are actually faster at changing diapers.
Okay, so when will we find men racing to cook things up in the kitchen?  Surely, if you're willing and able to change a smelly diaper, you're ready to make a quick and easy meal for yourself and the family. According to a United States Department of Labor 2010 American Time Use Survey, on an average day, 41 percent of men did the food preparation or cleanup, compared to 68 percent of women.
The roles of men are changing every day so I'm here with a little TASTOSTERONE to help men cook delicious meals any time, day or night. Cooking will create wonderful memories of time in the kitchen with the kids and gain brownie points with the wife.
Martha Stewart may have set the bar high for women across the country for years. Well, I'm setting the bar low, expecting less and getting great results from men in the kitchen. It's not everyday that your kid will need to change a tire, but they will need to learn the nuts and bolts of how to prepare a healthy meal or treat.  Dad, you got this!