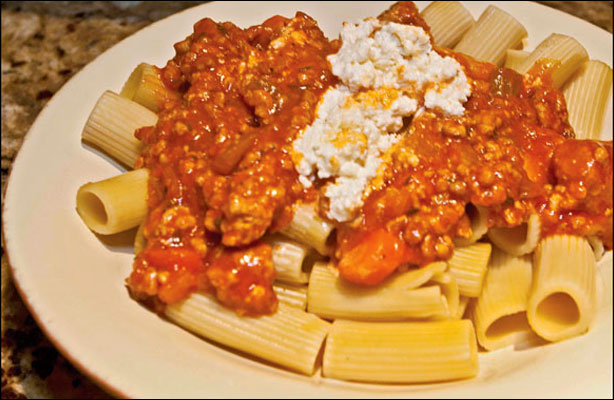 If you think Bolognese is difficult to prepare or heavy on your stomach think again with this classic recipe. My friend, Stephanie, found this dish to be one that the entire family can enjoy cooking and eating. she even makes it her own by substituting chopped lettuce in lieu of pasta. I always make extra of this dish so I can freeze a few containers for dinner the following week.
Servings: 6
Prep Time: 15 minutes
Cook Time: 1 hour
INGREDIENTS
5 carrots, peeled and diced
5 celery ribs, diced
1 large onion, chopped
3 tablespoons olive oil
1 garlic clove, minced
Pinch of red pepper flakes
2 pounds ground veal, chicken or beef
2 small cans of tomato paste
3 tablespoons flour
1/2 cup white wine
1 quart chicken stock or canned chicken broth
Salt and black pepper to taste
Tie together a small bundle of fresh thyme, parsley and oregano with cooking string
1/2 cup ricotta cheese
1/2 cup of Parmesan cheese, grated
2 tablespoons chopped parsley for garnish
DIRECTIONS
Add oil to very large sauté pan over medium heat.
Add vegetables, garlic, salt, pepper and red pepper flakes. ?Sauté over medium heat for 10 minutes or until soft.
Brown meat in another pan over medium heat. ?No need to use any oil. The fat from the meat will cook the meat.
Add meat to vegetables.
Add flour to mixture and cook over medium heat for one minute.
Add one can of tomato paste. The mixture will look dry at this point. Cook for one minute.
Add wine and cook for 2 minutes.
Add chicken stock and fresh herbs. Bring to a boil then simmer uncovered for one hour. Stir every once in a while to make sure the meat doesn't stick to the pan.
Add second can of paste and cook for an additional 30 minutes.
Remove herbs and discard.
Boil large pot of water with salt. Add your pasta of choice and cook per directions on the packaging or to cook al dente pasta take about two minutes off the cooking time.
Spoon Bolognese over cooked pasta or chopped lettuce. Sprinkle with grated Parmesan cheese, chopped parsley, and a dollop of ricotta cheese.
TIPS
Most grocery stores now carry inexpensive packages of precut vegetables.
Buy the precut carrots, onion and celery to reduce prep time.