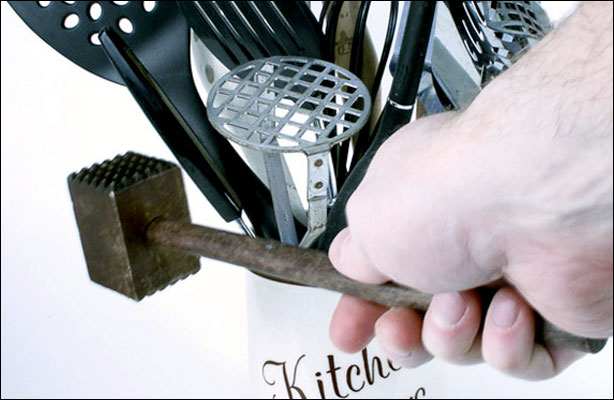 1. NUMBER OF MEN COOKING IS ON THE RISE
According to the Los Angeles Times, the food industry has focused on women and particularly mothers as its primary customers for decades. Companies are now taking notice that men are quickly becoming the grocery shoppers in a household. Experts say the trend has been building slowly for decades, but when the recession hit many men were out of work and delegated to managing the household. It's a paradigm shift for the $560-billion retail food industry. TASTOSTERONE is here to help.
2. A SIMPLE RECIPE FOR SUCCESS FROM CELEBRITY CHEF DAVID ROCCO
David Rocco's Tiramasu dessert recipe was a TASTOSTERONE favorite recipe pick for 2011 and will continue to be a fav in 2012!  It's super easy to make, impresses the ladies and is a hit with guests at every party! Executive producer, best-selling author and celebrity chef David Rocco is probably best known as the host of his latest TV series, David Rocco's Dolce Vita seen in more than 150 countries worldwide, including Food Network Canada, BBC Food, Discovery Travel and Leisure, Nat Geo Adventure Channel and Cooking Channel. With a little help from the gorgeous backdrop of Italy and the local foodies, David has been bringing sexy back to the kitchen, cooking beautiful, simple and rustic dishes that any T-Man can master.
3. CHARITIES SERVE UP SOLUTIONS FOR THE HUNGRY
TASTOSTERONE'S friends at the nonprofit organization Move for Hunger worked with over 215 moving companies in 37 states.  Together, they collected over 400,000 pounds of food for the hungry at food banks across America. Rocker Jon Bon Jovi also opened JBL Soul Kitchen in Red Bank, New Jersey. His community restaurant has no prices on the menu; instead, customers donate to pay for their meal or may do volunteer work in exchange for their family's food.
4. A PRODUCT FIRES THINGS UP IN THE KITCHEN
As seen in Martha Stewart's Whole Living and Saveur Magazine, Mazi Piri Piri Sauce is fierce, fiery and fun! This authentic Portuguese hot sauce is prepared in the tradition of Portugal's Algarve region – famous for its Frango Piri Piri (grilled chicken smothered in piri piri sauce). Hand-made in small batches of 100 bottles by Peter Mantas and his partner Leslie Feingold, this popular Mázi Piri-Piri Sauce is made from African bird's-eye chilies, which are common in South Africa, West Africa, and Portugal, where Mantas discovered piri-piri sauce while working there as a chef. Buy the sauce online at TASTOSTERONE'S favorite local shopping spot, Sickles Market.
5. KING OF CHILI WINS COOK-OFF
Up against 13 chili recipes, TASTOSTERONE's King of Chili won first place in a blind taste test judged by 75 guests at the Tavill Chili Annual Cook-off. This thick chili has a slight, but subtle kick. It truly is the King of Chili made with ground sirloin steak and the finest ingredients. Don't let the long list of ingredients fool you, it's easy to make.