Friends and family are coming over for the big game and you're hard pressed for time. Serve your chips, dips, cheeses and veggies, but here are also a quick and easy recipes that contain a protein packed punch that fuels up the guests for a day of fun and games.
My city girl heart belongs to the NY Giants, so my Sunday spread would not be complete without serving guests some lox, cream cheese and bagels. I'm also serving some mussels to appease those New England Patriots fans. So go ahead send the Patriots fishing with my easy recipes.
A RECIPE TO LOX IN THE NY GIANTS SUPER BOWL WIN

NEW YORK MEETS SCOTLAND
Servings: 2
Prep Time: 5 minutes
INGREDIENTS
2 fresh bagels
Whipped cream cheese
Red onion, thinly sliced
Cucumber, thinly sliced
Tomato, sliced
2 slices smoked salmon or Nova, cut into thin strips
DIRECTIONS
Cut bagels in half and lightly toast. Fresh, warm bagels do not require toasting.
Smear (NYC term for spread) cream cheese on both sides of your bagels.
Top with remaining ingredients.
Cut in half and serve.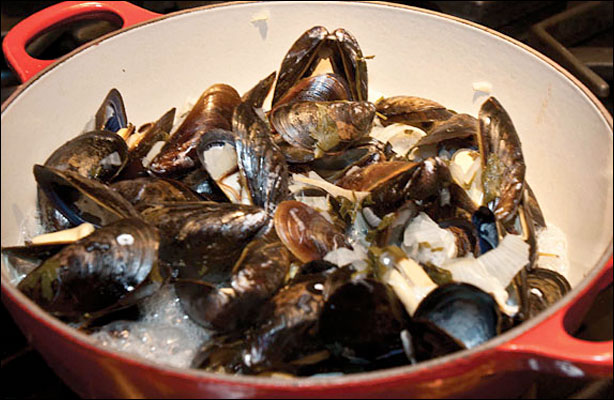 I WANT MUSSELS
Servings: 4
Prep Time: 5 minutes
Cook Time: 5 minutes
INGREDIENTS
3-4 pounds mussels
1 cup onions, chopped
2 tablespoons shallots, coarsely chopped
1 tablespoon unsalted butter
2 bay leaves
5 tablespoons Italian parsley, coarsely chopped
1/2 teaspoon pepper
1 1/2 cups white wine or dry white vermouth (I prefer the white wine.)
DIRECTIONS
Place the mussels, onions, shallots, butter, bay leaves, parsley, and pepper in a large casserole pot with lid.
Toss the ingredients then pour white wine or vermouth over mixture and cover.
Bring to a boil for 2-5 minutes then shake pan to prevent anything from sticking to the bottom.
Peek into your pot. If most of the mussels are open pour them onto a large serving plate and garnish with chopped parsley.
Discard any unopened mussels.
Serve with crusty bread.
Use the bread to soak up your sauce.
WORLD NUTELLA DAY SWEETENS GAME DAY
Just when you thought spending a full day, eating and watching football, couldn't get any sweeter, Sunday, February 5th is also World Nutella Day. Here's my recipe for a crowd-pleasing dessert that will entertain the kids, gain brownie points with the wife and send those testosterone crazed football fans home on a sweet TASTOSTERONE note.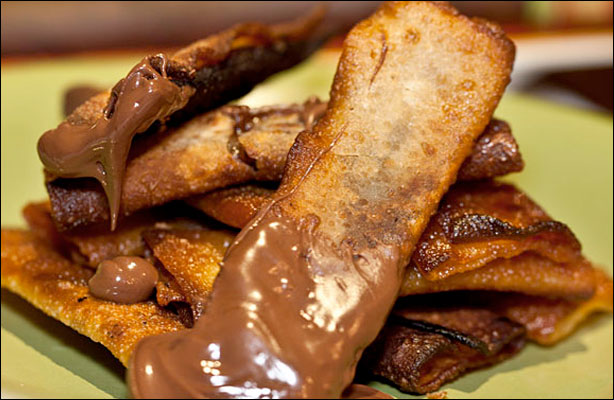 CHOCOLATE BITES
INGREDIENTS
20 wonton wrappers, cut in half to form triangles
5 tablespoons chocolate hazelnut spread (I prefer the one and only Nutella spread.)
1/2 cup vegetable oil
3 tablespoons confectioner's/powdered sugar
INSTRUCTIONS
Take a wonton wrapper and place 1/2 teaspoon of chocolate hazelnut spread on top.
Fold the wonton in half, pressing the edges together so that it holds together, making a triangle. (You may need to wet your fingers with some water to achieve this) Continue the process until all the wontons are filled.
In a medium-sized pot, over high heat, heat oil until hot. Using a slotted spoon, carefully place wontons into oil for 1 – 2 minutes, or until they are golden brown. Don't crowd the pot. With tongs or slotted spoon, remove from oil and set onto paper towels to soak excess oil.
Sprinkle with confectioner's sugar and serve warm or room temperature.