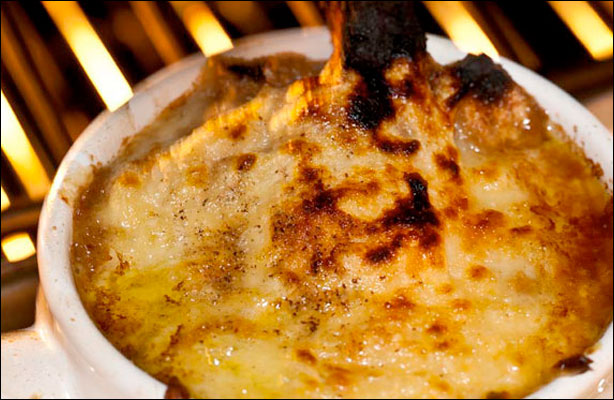 There is something about a bowl of onion soup that warms the heart and soul. 
I find when I order onion soup at a restaurant it's usually too salty. Keep in mind adding cheese to the soup also adds salt, which may be why the restaurant version overwhelms the sensitive palate.
Servings: 6
Prep Time: 20 minutes
Cook Time: 1 hour
INGREDIENTS
3 tablespoons unsalted butter
6 large yellow onions, sliced
1/4 cup sugar
1 teaspoon black pepper
4 cups low sodium beef stock
4 cups regular beef stock
1 bay leaf
1/4 cup Port wine
6 slices of French bread (one per bowl)
3 cups Gruyère cheese, shredded
INSTRUCTIONS
Melt butter in a large sauté pan.
Add sliced onions and cook uncovered over low flame for 10 minutes.
Add sugar and continue to cook uncovered for an additional 20 minutes (less if you prefer a broth that is less sweet) or until the onions caramelize.
Transfer to a large soup pot.
Add port, broth, bay leaf, salt and pepper.
Simmer for 30 – 40 minutes covered.
Remove bay leaf.
Preheat oven to broil.
Place ovenproof soup bowls on baking sheet lined with foil.
Distribute broth and onion in each bowl, put bread in at an angle, top with cheese and dot with butter (optional).
Broil for 5 minutes or until cheese melts. You can also bake soup for 10 minutes in a 350°F oven.
TIP
When in the sauté pan, do not stir onions more than once or twice (just to prevent them from sticking) or onions will not carmelize.