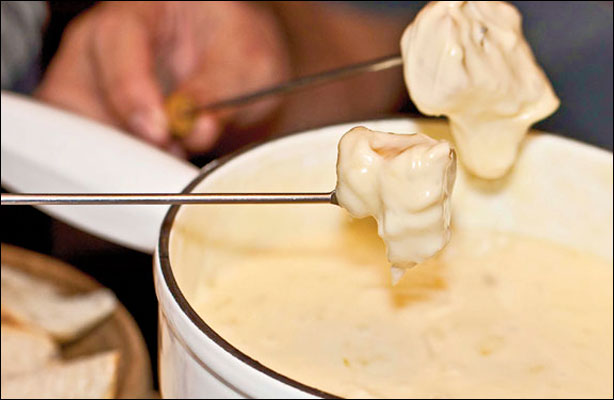 In Switzerland, there are no fancy fondues with mixings of salsa and cheddar cheese; instead, they use only the best gruyere cheese and bread available to make this simple meal. However, the swiss do have terms and conditions for eating this amazing dish; don't drop your bread into the fondue or you will end up in the nearby lake and don't drink water or anything carbonated while eating fondue. One should drink a white wine such as fendant or hot tea, otherwise you'll end up with cheese balls wreaking havoc in your stomach.
Servings: 4
Prep Time: 10 minutes
Cook Time: 5 minutes
INGREDIENTS
Fondue pot and forks (I own a Calphalon Stainless Steel Fondue Set and have used it for years. It's a great product, well worth the investment.)
1 garlic clove, chopped
3-4 cups Gruyère cheese, shredded
2 tablespoons cornstarch
1/2 – 3/4 cups dry white wine/Fendant
1 lemon
2 tablespoons Kirsch (clear-colored, cherry-flavored brandy/liquor)
Fresh ground pepper (I prefer using a pepper mill)
French bread
Cornishon or any small-sized pickles
Pickled onions
INSTRUCTIONS
In a small pot add 2 cups of water and 1 tablespoon of salt bring for 6-10 minutes to a boil. Check Drain and serve with fondue. Do this before you start making the fondue.
Toss cheese with cornstarch and set aside
Warm the fondue pot on a low flame. (Follow cooking directions for your fondue maker.)
Rub garlic on all sides inside the pot for flavor then discard garlic.
Add the dry white wine (Fendant) and a squeeze of lemon. Heat till warm.
Add cheese mixture and continue to stir.
Add Kirsch and continue to stir. At this point, the fondue should look like ribbon and have a glossy shine.
Serve while continuing to stir in pot over a flame.
Serve with crusty bread, cut into 2" cubes, and/or boiled potatoes. Dip bread into fondue and serve with Cornishon pickles and pearl onions on the side. Grind fresh pepper on the cheese as it comes out of pot.