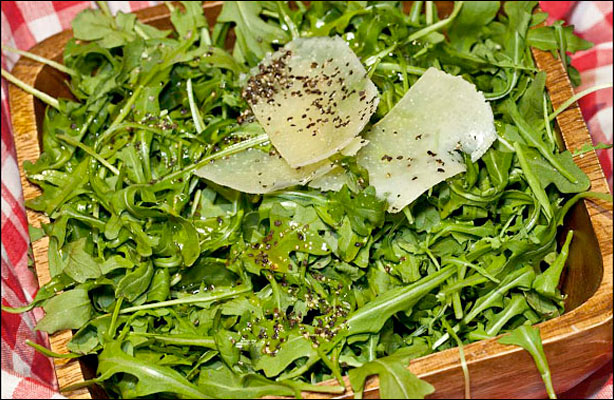 Corned beef and cabbage may warm the soul on Saint Patty's Day, but nutritional leafy greens provide T-Men with the vitamins and minerals necessary to live healthy, energized lives. Greenup with a few recipes inspired by TASTOSTERONE'S Chapter 7: Popeye and Olive Oil: Vegetables and Salads. This chapter provides simple, quick and healthy recipes that complement any main course, be it fish, meat or pasta.
Leafy greens are packed with vitamins A and C, calcium, iron, fiber and folic acid. They can be quite bitter, spicy and pungent when eaten raw. Many recipes call for some cooking them to reduce their bitterness. Wilted, blanched, sautéed, braised, or even puréed, leafy greens add great variety and flavor to any dish, especially when paired with garlic, lemon and olive oil.
Although probably not your first choice when shopping for produce, leafy greens should be considered as additions to any meal because they are key ingredients for a healthy lifestyle. Like cooking, you'll gain confidence once you enjoy the results of eating your veggies.
SWISS CHARD
Swiss Chard has a beet-like taste and soft texture that's perfect for sautéing. This red-stemmed leafy green contains 15 calories in one-half cup and is a good source of vitamins A and C. I prefer to add some rice vinegar and sesame seeds to my Swiss Chard when sautéing in olive oil and garlic for a hearty, earthy flavor. The stems and greens are best prepared separately to prevent the leaves from overcooking.
Don't worry about the shrinkage when cooking your greens! Unlike the character of George Castanza in his famous Seinfeld episode, your girl will be impressed by your culinary skills when presenting your leafy green dish.
KALE CHIPS
Kale is the nutritional powerhouse of leafy greens and grandmother of the cabbage family. This old-timer is an excellent source of vitamins A, C and K as well as calcium, folate and potassium. Kale comes in many varieties and ranges in color from cream to purple to black. You can steam or sauté kale with a little olive oil and garlic or enjoy my recipe for Kale Chips, a healthy snack that has gained popularity among foodies in recent years. You can also add a handful of greens to stews and soups before serving to add taste, texture and nutrients.
DIRECTIONS
Preheat oven to about 375 degrees C.
Rinse and dry 4 bunches of kale (about 4-5 cups).
Tear the leaves off the thick stems into pieces. Size doesn't matter. Spread out on a large nonstick baking pan.
Drizzle with 2 teaspoons of olive oil and toss with your hands so the leaves are evenly and lightly coated.
Sprinkle with Kosher Salt, Freshly Ground Cracked Pepper and Parmesan. Feel free to season to your taste.
Bake for about 15 minutes, until edges are brown and kale is crispy.
Serve and enjoy.
ARUGULA SALAD
Arugula is my all-time favorite leafy green. This food is low in saturated fat and cholesterol. It's also a good source of protein, thiamin, riboflavin, vitamin B6, pantothenic acid, zinc and copper, and a very good source of dietary fiber, vitamins A, C and K, folate, calcium, iron, magnesium, phosphorus, potassium and manganese. To change up my Veal Milanese or any meat or fish dish, I top my recipe with this peppery salad after cooking. It adds a new taste sensation and you also save time on cleanup.
INGREDIENTS
2 cups fresh arugula, chopped
1/4 cup Parmesan cheese (Use a carrot peeler to shave off slices of cheese)
3 tablespoons extra virgin olive oil
Salt and black pepper to taste
DIRECTIONS
Chop arugula and place in a bowl.
Top with Parmesan cheese and drizzle with oil. Toss.
Add salt and black pepper to taste and serve.
For more on leafy greens and their health benefits visit:
A Visual Guide to Cooking Greens, Text by Esther Sung; photos by Chris Astley
From Farm to Table on Epicurious.com
Top Ten Leafy Greens (WebMD.com) By Cari Nierenberg
Athlete's Guide To Meals That Maximize Performance
From Askfitnesscoach.com