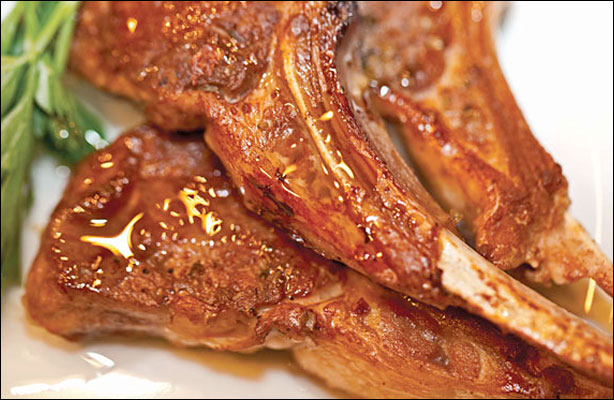 TRY A T-MAN'S RECIPE FOR LAMB CHOP BITES
Easter Sunday and Passover have arrived, and many of you may be scrambling to plan the perfect holiday meal for your family and friends.  If you're like me, this may be the year you're downsizing the traditional feast as the relatives and kids are away at school or on vacation.
There's no need to buy that roast lamb or large ham, since you'll be cooking for maybe four at the most. You also don't have to sacrifice the enjoyment of a festive meal; instead, you can enjoy my simple recipe for Lamb Chop Bites. T-Men will find this recipe easy to prepare and simply delicious!   You could also dress up the chops with a few sides like couscous, deviled eggs and some veggies.
Whether downsizing for the holidays or serving this dish as an appetizer for a large party of guests, your TASTOSTERONE technique and skills will impress the guests.
LAMB CHOP BITES
INGREDIENTS
15 one to two ounce mini lamb chops
1 teaspoon pepper
1/2 teaspoon salt
1 tablespoon garlic, chopped
1 tablespoon fresh oregano, chopped or 4 teaspoons dried oregano
1/4 cup olive oil
INSTRUCTIONS
Mix all ingredients together except the lamb chops, and place in a large flat-bottomed glass bowl.
Add chops to mixture and marinate for 30 minutes. (optional)
Preheat sauté pan until very hot.
Add chops and marinade to hot pan. Sear 3 minutes on each side until desired doneness.
Remove from pan and place on a serving plate.
Sprinkle with salt and pepper to taste.
Cover plate with foil and rest meat for 5 minutes.
Sprinkle with cheese like Parmesan, goat, blue or Gorgonzola or sprinkle with a dash of soy sauce while chops are hot. (optional)
Serve.
Preparation time: 5 minute(s)
Cooking time: 6 minute(s)
Servings: 4
TASTOSTERONE TIP
If you prefer a less gamey taste, presoak your lamb chops in milk for a maximum of two hours, and refrigerate until you are ready to cook them.