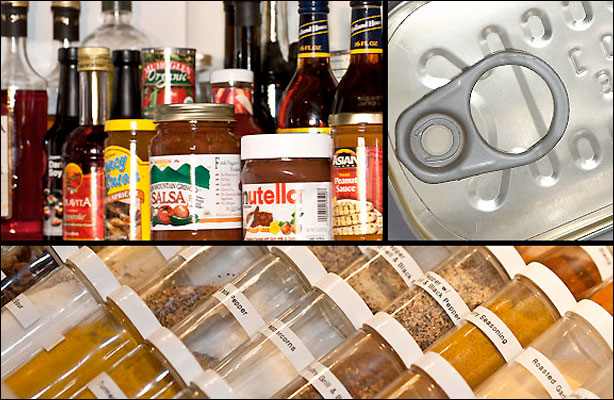 Spring has arrived and just like you would change up your wardrobe, take out the lawn furniture, and ready the BBQ, tis' the season to take stock of your kitchen. Remember when you went on that shopping spree and purchased the super sized package of sardines? Well, sardines may have been a one-day obsession and now they've become closet clutter. Say goodbye to the fishes.
Toss food that has expired; donate nonperishables; and take stock of what's on your shelves and in the fridge. Spring is also the perfect time to review your food choices and make it a point to purge your cabinets of high sodium canned foods and boxes of processed mac and cheese. They may be good in a pinch, but not ideal for your lifestyle.
If moving, check out Tastosterone's charity of choice, Move for Hunger to donate your canned goods. This hardworking non-profit organization provides an out-of-the-box solution to our nation's growing hunger problem. They work with over 200 moving companies in 37 states and have collected an astounding 365,000 lbs. of food for food banks across America.
Spring cleaning is what Tastosterone is all about! It's time to discover the pleasures of cooking and its rewards thanks to a well-organized kitchen. You can get started with these T-Man tips for keeping life simple and fresh in the kitchen.
Don't Take Food Hostage
Rancid foods lose vitamins and could develop potentially toxic compounds. Eating healthier may mean you live longer, but the same doesn't hold true for the shelf life of your healthier foods. Compared to refined white flour and vegetable oils, olive and peanut oil can go rancid in less than a year. Additionally, exotic oils like walnut and flaxseed should be stored in the refrigerator or freezer to maintain freshness.
Dried spices can also loose flavor and potency. Make sure to check for expiration dates. If you are unable to find a date on your spice or herb jar, throw out when in doubt. Tastosterone Tip: Awaken the scent of dried herbs like basil, oregano, herbs de provence and thyme by rubbing them in the palms of your hands then toss them into your dish. This will release the oils and invigorate their flavor.
Stop Tooling Around
Look over your wooden spoons for splinters and check cutting boards for cuts and stains. Be safe, not sorry by getting rid of kitchen items that may be contaminated with hidden bacteria. Be sure to also sharpen dull knives. When preparing dinner for the kids or guests, the last thing you want is to take a ride to the emergency room for stitches. A dull knife is dangerous because it requires more force to cut, increasing your chances of losing control of it.
Shop Around
Depending on your budget, take a stroll through Williams-Sonoma or Kohl's where Bobby Flay offers his very own line of affordable prepware, bakeware, serveware, and cookware. Owning the right kitchen tools make cooking fun, less stressful and save you time. You may even find products that will make great gifts for Mother's Day, Father's Day, the Wedding Couple, or recent Grad.
One of the best gifts I purchased for myself was a pasta roller adapter attachment for my KitchenAide mixer. Fresh pasta is really easy and fun to make. My daughter and I enjoyed time together making pasta and I'm sure it's something you could do with your kids or even that new date you're eager to get to know better. Do you also remember those safety gripper jar openers? I purchased one years ago for myself and my grandparents. To this day, it's still the best kitchen gadget I've ever purchased. It's still on the market. Make sure you pick one up!
Are You a T-Man with Tips for Spring Cleaning the Kitchen?
Please post your comments. We want to hear from you. You can also share your pics, recipes and tips on our Facebook page or follow us on Twitter.