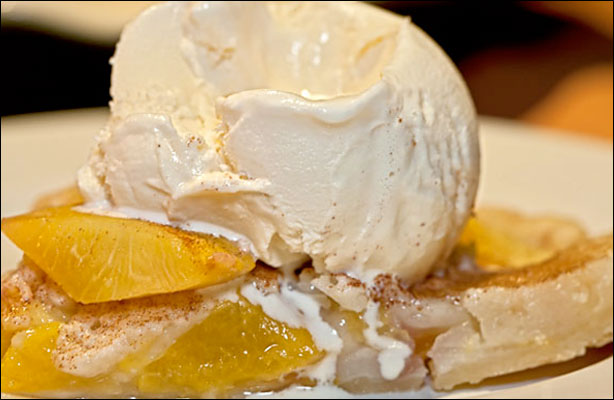 The holidays bring out the best bakers in all of us. From cookies for Santa to Hanukkah macaroons, there is always a traditional dessert that has been made in households across the country for years. In my home, we love a simple warm and sugary peach pie. No need to wait till summer to enjoy this delicious dessert. Eat a peach any time of the year for a juicy burst of flavor.
I'm finding out that many men enjoy baking and an original T-Man even showed me just how easy baking could be with this peach pie recipe. Could men really have the sweetest tooth of all? Try this dessert and let us know what you think. It may just become a traditional holiday recipe in your home.
INGREDIENTS
1 frozen pie shell (I prefer a Pillsbury® Refrigerated Pie Crust)
1/4 stick unsalted butter, softened (leave out at room temperature)
1/3 cup sugar
1/3 cup all-purpose flour
3 tablespoons water
3- 4 ripe peaches, peeled, pitted and thinly sliced
1 pint of ice cream (I prefer Häagen-Dazs® Five Ingredients vanilla ice cream or any quality brand that doesn't contain preservatives)
TOPPING
3 tablespoons cinnamon
2 tablespoons sugar
DIRECTIONS
Preheat oven to 425°F. Using a fork, poke holes all over the bottom and sides of the pie shell, about 20 marks. Place in oven and bake for 5 minutes.
Remove pie shell from oven and turn temperature down to 375°F.
Using an electric mixer with a pastry attachment, mix together butter, sugar, flour, and water until batter resembles large peas or marbles. Do not overmix.
Place peach slices into the pie shell. Evenly disperse the peaches covering the bottom of the shell. Top with flour mixture.
Line a baking sheet with foil to save on cleanup time. Place the pie on the baking sheet and bake for 60 minutes.
Combine cinnamon and sugar in a separate bowl.
Remove the pie from the oven and top with the cinnamon and sugar while hot.
Serve warm with vanilla ice cream and enjoy.