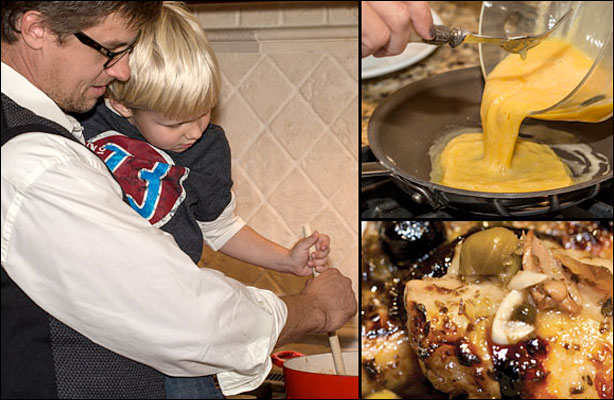 No doubt men will continue to heat things up in the kitchen in 2013 as they raise their measuring cups to a new year full of flavor and feasting. When I began writing TASTOSTERONE three years ago, I knew men were in need of some tools and tips to start flexing those cooking muscles, but what I wasn't aware of was that there were many more men cooking than I originally anticipated and found in my market research.
Men are cooking all types of meals, and not just grilling a bangin' steak or baked potato on the weekend. They're experimenting with exotic spices, down with dicing veggies, and driving the few extra miles for the "freshest" mozzarella around. So, with that said, we did a little snooping around and highlighted a few of the food trends for 2013 that we thought would interest them. From the incredible edible egg to turning over a new leafy green, these food trends will feed the curiosity of men who love to cook.
Start to an Eggs-cellent Year
Breakfast as they say is the most important meal of the day and nothing is more important to me than my eggs. But then again, what's for dinner? You're tired and a little hungry. Reach for the eggs. They're fast and warm. This is a T-Man's go to meal! The best part about making eggs is that the cleanup takes seconds.
According to Bon Apetit magazine chefs are ditching chicken eggs in favor of duck eggs in 2013. I wouldn't have the chickens leave the hen house just yet as those scrambled eggs are still in need of Henny Penny. The flavor of duck eggs is said to be stronger so it's recommended to enjoy one-at-a-time and to serve them over a green like sautéed spinach to fully enjoy its flavor.
No matter what eggs are cracking in your kitchen this year, the sky is the limit when you cook with eggs, so feel free to be creative and experiment with different ingredients from a variety of herbs or vegetables to your favorite meats. Cream cheese is my favorite ingredient to add to eggs – it makes for a really creamy omelet. A few good eggs, juice and toast are all it takes to make any day of the year. It's that simple!
Curing Meat heads
Men will love the new trend towards cured meats as predicted by Baumm+Whiteman International Food + Restaurant Consultants. Curing foods in 2013 should heal us of leading a bland life in the New Year. Be sure to make that trip to your local Italian Food Market for those savory slices of preserved meat. The process of curing involves a combination of salt, nitrate, or sugar and may also involve smoking or cooking. Whether you're in the mood for salami, Bresaola, Prosciutto, or culatello, you'll find experimenting with the flavors of cured meats exciting for both you and your dinner guests. One of my all time favorite dishes is a simple combination of Prosciutto di Parma and cantaloupe for a flavorful mix of salty sweet.
Just place your sliced or cubed melon on a plate, layer the meat over the melon, add some fresh ground pepper, top with a squeeze of fresh lemon, and enjoy. You can learn all about cured meats, how to make them, and enjoy them on Jason Molinari's blog. Jason, who is from Italy and lives in Atlanta, is a dedicated meat head and serves up useful information on the curing process, its history, origins, and types of meats.
Keeping It Hot
Last year, TASTOSTERONE chose Mazi Piri Piri as one of our 2012 food trend picks. This sauce is made on the Jersey Shore and is hot, hot, hot! I still love to use a little of its fiery heat in my  recipes, but this year I look forward to trying Gochujang, a Bon Appetit 2013 food trend pick. Gochujang is a savory and pungent fermented Korean condiment made from red chili, glutinous rice, fermented soybeans and salt. Some say it may soon replace Sriracha as the red Asian condiment of choice. I'll have some recipes for you once I start experimenting. Please share yours as well.
Chicken Out? – No In!
With the price of beef, lamb and pork soaring, restaurants have increasingly looked toward new and interesting preparations of chicken. In TASTOSTERONE, I offer 17 chicken recipes from starters to main courses so I guess you could say I was ahead of the trend! My Kitchen Sink Chicken recipe is straight from my BYOB Chapter and is just the twist of a few bottles from pot to plate. This dish does not require much work to serve a large crowd and its combination of flavors may lead guests to believe you slaved in the kitchen for hours. I recommend serving this dish with couscous, which can be made ahead of time.
Keep It Real with Fresh Ingredients
I find it curious that in addition to cured meats another trend for the year is preservative free foods and fresh ingredients. Home cooking is hopefully on the rise and with that men will be cooking more as well. With mom working longer hours and spending less time in the kitchen, guys are sure to rise to the occasion, conquering the home cooked family meal. Eating at restaurants and take out prove too costly in 2013 and people are craving the basics, including simple ingredients. Take mac and cheese for example, would you ever choose the boxed kind over fresh, cheesy goodness from the pot?
Greens are also gaining popularity. Cruciferous Greens are a #1 food trend pick by the Food Network's Healthy Eats and Chef Mario Batali. They predict that kale, chard, turnip greens and mustard greens will start making regular appearances at restaurants. Men, why not take cue and start incorporating some greens into your dinner? Why not kale chips with that steak or pork chop?
Predicting your own 2013 food trends and recipes? Post them on Facebook or tweet me.