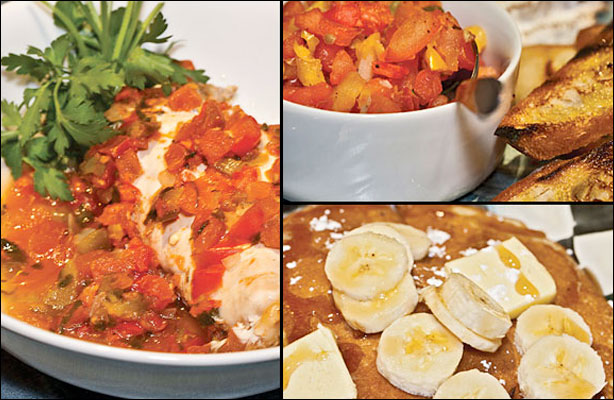 Men, why not wing it on Valentine's Day? No, I'm not suggesting that you present the ladies in your life with Buffalo Wings. Although, I love a good recipe for chicken wings with blue cheese dressing! I'm merely suggesting that you take it easy on the commercialized love stuck occasion by being true to yourself with authentic, simple recipes that please you and your loved ones. A romantic or thoughtful gesture should never be forced and "faking it" is not allowed in the kitchen. Below are a few ideas for serving up some true love for the special women in your life this Valentine's Day.
5 SIMPLE WAYS TO AVOID "FAKING IT" ON VALENTINE'S DAY WITH RECIPES FOR ANY DAY OF THE YEAR
Chicken Espanola - From my cookbook's B.Y.O.B. Chapter, this is a recipe for the ultimate meal pleaser. I've given this recipe out so many times I can no longer count. Everyone loves it because you look like a culinary star with only the twist of a salsa jar. Skip the hour or so of chopping up vegetables and still impress the guests, family or friends with this easy dish for any day of the year.
Garlic Bread- You might not think about serving garlic bread on a first date; however, garlic is known as an aphrodisiac because it revs up the blood circulation. Wink. Wink.
Bruschetta – This is my favorite side and topping! I often add bruschetta to Veal Milanese or any grilled meat or fish. It's also great on a crusty slice of bread with some quality extra virgin olive oil drizzled on top.
Omelet - An omelet is the ultimate gift of love. It's a simple dish appreciated around the world as a timeless classic. Add any ingredients, and your omelet takes on an entirely new taste and look.
Pancakes - If your family loves pancakes on the weekend, why not make a quick batch for dinner? Breakfast served day or night is always a hit.
SALSA = CHICKEN ESPANOLA
INGREDIENTS
1 large jar of your favorite salsa (I prefer Green Mountain Gringo salsa)
1 tablespoon garlic powder (optional)
1/2 teaspoon salt
1/2 teaspoon pepper
4 skinless chicken breasts with bone in
DIRECTIONS
Preheat oven to 350°F.
Place chicken in a large baking dish.
In the same baking dish, season chicken with salt, pepper and garlic powder (optional).
Pour jar of salsa over chicken. Make sure chicken is covered.
Cover with foil and bake for 40 minutes to 1 hour.
Serve with sides such as tortilla chips, sour cream, corn on the cob, or rice.