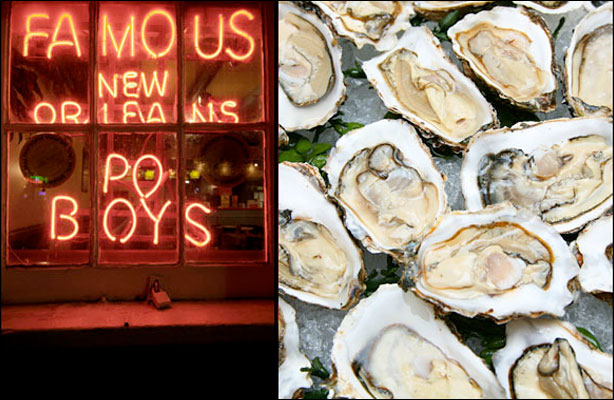 It seems like a hero emerges to wow the crowd at every Super Bowl. In Super Bowl XLVI it was former New York Giant Mario Manningham who was on the receiving end of one of the most spectacular receptions of the game, a 38-yard strike from quarterback Eli Manning out of the shotgun that came on the first play of what turned out to be the Giants' game-winning drive in the fourth quarter. So, who will bask in the glory in a big way at Super Bowl XLVII? There could no better location for the game – New Orleans, the town of Brotherly Love, delicious food and fabulous music.
Be the hero of your own Super Bowl feast with a little TASTOSTERONE. To wow your crowd, we suggest you enjoy some local New Orleans flavor right at home and make some Po' Boy sandwiches, the city's traditional sub sandwich with a kick. If you're lucky enough to be heading to New Orleans for the Big Game, you'll have to check out journalist Steve Garbarino's po' boy picks in his Wall Street Journal blog post "The Crescent City's Greatest Po'Boys".
Whether you're rooting for the Baltimore Ravens or the San Francisco 49ers, you'll enjoy the day with this winning recipe for Oyster Po'Boy. The flakey New Orleans—style French roll and Crystal hot sauce are essential ingrediants to make this classic sandwich.
We already picked our winner though and the team with true TASTOSTERONE! Check out this video from  the NFL Network, featuring Host and Reporter Michelle Beisner and New Orleans Saints safety Roman Harper as they created beignets from scratch at Cafe du Monde. Gotta love men who bake (and play professional football)!
Oyster/Shrimp Po'Boy
(My version of an Epicurious.com recipe)
Makes 4 servings
INGREDIENTS
2 1/2 teaspoons kosher salt
1 teaspoon cayenne pepper
1 teaspoon garlic powder
1 teaspoon paprika
1/2 teaspoon dried oregano
1/2 teaspoon dried thyme
1/2 teaspoon freshly ground black pepper
1/2 teaspoon onion powder
Vegetable oil for frying
1 1/2 pounds oysters (you can always substitute with shrimp)
1 cup buttermilk
1 1/2 cups all-purpose flour
1 cup cornmeal
4 8″-long French rolls, split horizontally
Dressing (1 tablespoon sweet relish with 3 tablespoons mayonnaise and a dash of hot sauce) or mayonnaise
Shredded iceberg lettuce
Sliced tomatoes
Dill pickles
Hot pepper sauce, preferably Crystal
DIRECTIONS
Whisk first 8 ingredients in a small bowl to blend.
Attach a deep-fry thermometer to side of a heavy wide pot. Add enough oil to measure 2″. Heat over medium heat to 350°.
Meanwhile, place oysters and 2 tablespoons spice mix in a medium bowl and toss to coat. Pour buttermilk into another medium bowl. Whisk flour and cornmeal in another medium bowl.
Dip seasoned oysters briefly in buttermilk, then coat with flour mixture. Working in batches, fry oysters, stirring occasionally, until golden brown and just cooked through, about 4 minutes per batch. Transfer to paper towels to drain.
Open rolls and spread cut sides with dressing. Top with lettuce, tomato, pickles, and oysters. Serve with hot sauce, if desired.
TASTOSTERONE TIP
Acronyms come in handy in the kitchen. I'm always creating my own while cooking  to help me remember my recipes and ingrediants. When breading meat or fish, one that I use quite often is FEB (flour, egg wash, breadcrumbs).