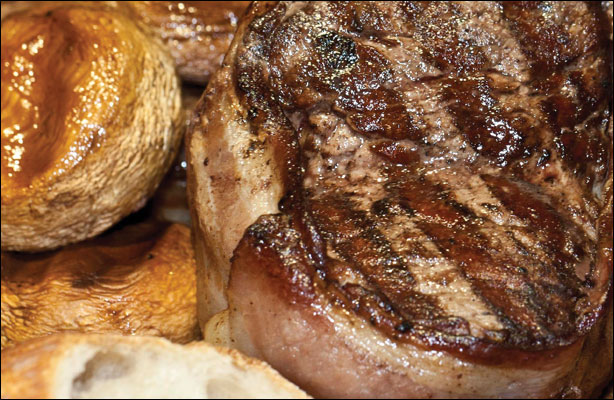 Spring has arrived and that doesn't mean we have to eat like rabbits! So men light up the grill and get that meat sizzling!
Per a poll taken by Allrecipes, the grill far outweighs the oven as man's favorite way to cook with 46 percent of men choosing to grill outdoors. TASTOSTERONE is not really about outdoor grilling and there are tons of books about man's favorite cooking tool. I cannot deny however that there is nothing better than a mouthwatering piece of grilled meat on a cool spring night.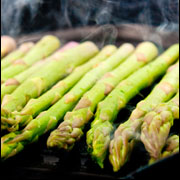 According to a grill master like Chef Bobby Flay, "There are guys that grill, and then there are guys that think they can grill." Well, no matter which guy you think you may be, my recipe for "Papa Stanley's Filet Mignon Wrapped in Bacon" will have you kicking off the grilling season with flavor and confidence.
Steak and bacon on the grill – TASTOSTERONE on a plate right here! Add a baked potato and some grilled asparagus to the dish and you have a meal sure to please. Wrapping the filet in bacon adds flavor and keeps the meat from drying out while cooking or grilling, so there really is no need to fuss with sauces.
PAPA STANLEY'S FILET MIGNON WRAPPED IN BACON
INGREDIENTS
2 pieces of filet mignon
4 slices of bacon
Salt and black pepper
Seasoning salt
1 tablespoon unsalted butter
DIRECTIONS
Wrap bacon around filet and secure with wooden toothpicks.
Season with salt and pepper.
Heat grill until very hot. Place filets on grill for 5 minutes per side or to your desired taste. (I prefer my steak rare. Cook for 3 minutes per side.)
Remove bacon and continue cooking until crisp.
Top with a pat of butter, cover with foil and let rest.
Slice steaks and serve with crisp bacon.
TIPS
Bobby Flay notes that your meat should pull away from the grill itself before flipping. "Handcuff yourself if you feel the need to flip your meat," says Bobby Flay. "Or better yet, grab yourself a cocktail and mingle with guests. Let the grill do its job."
All meat should rest prior to cutting. The meat will stay juicy if you have the patience to wait at least a few minutes before serving. Meat will continue to cook after its removed from the heat.
A meat thermometer can really come in handy when cooking your filet. Use it to measure the internal temperature of your cooked meat to ensure that any harmful bacteria is destroyed.
THE FINGER TEST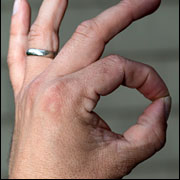 Many chefs check the doneness of meat by the way it feels when touched with their finger. Once you get used to using this easy method, you'll have mouthwatering meat cooked just the way you and your guests prefer in no time. With the guide below, you can use the way your own flesh feels to test for the doneness of meat.
WELL DONE -  Gently press the tip of your pinky and your thumb together. Again feel the fleshy area below the thumb. It should feel quite firm.
MEDIUM – Press the tip of your ring finger and thumb together. The flesh beneath the thumb should give a little more.
MEDIUM RARE – Gently press the tip of your middle finger to the tip of your thumb.
RARE – Press the tip of your index finger to the tip of your thumb. The fleshy area below the thumb should give a bit.