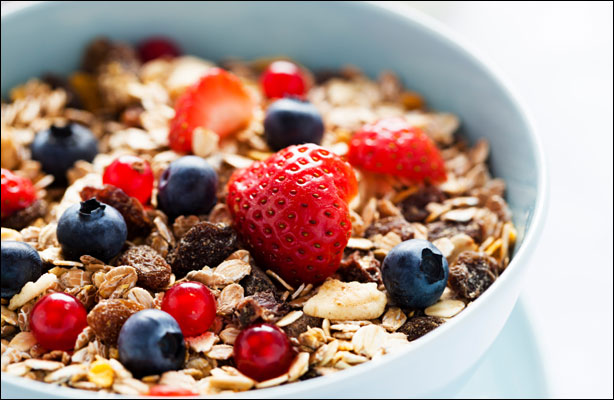 There must be a reason Mother's Day comes before Father's Day. Wouldn't you agree? I've never been one to believe that you get what you give, but on this occasion it doesn't hurt to try. Make this Mother's Day really special by coming up with a game plan. Whatever she likes for breakfast, whether it's coffee, eggs, French toast or pancakes, heat things up in the kitchen that morning and surprise her with her favorite dish.
Another simple gift idea is homemade granola, which you should plan on making before the day you celebrate. You can get the kids involved with this one. My recipe for homemade granola is simple, but don't be afraid to get creative with it. Wrap it up in a cute gift bag for her to enjoy with yogurt or ice cream all next week.
HOMEMADE GRANOLA
INGREDIENTS
3 cups rolled oats (not instant)
3 tablespoons light brown sugar
2 tablespoons dark brown sugar
1 teaspoon cinnamon
1/8 teaspoon allspice
1/4 teaspoon salt
1/3 cup honey
1/4 cup vegetable oil
1 teaspoon vanilla extract
Fruits, nuts, seeds (optional)
DIRECTIONS
Heat the oven to 300°F and arrange a rack in the middle.
Place the oats, brown sugar, cinnamon and salt in a large bowl and stir to combine. Set aside.
Place the honey, oil and vanilla in a small bowl and stir. Pour over the oat mixture and mix.
Spread the mixture in a thin, even layer on a baking sheet. Bake for 15 minutes, then stir and continue baking for 5 to 15 additional minutes or until the granola is a light golden brown.
Place the baking sheet on a wire rack and cool the granola to room temperature, stirring occasionally, about 20 minutes.
You can leave the granola plain or add fruit, nuts and seeds after baking. Dried fruits, apricots, coconut flakes and raisins are all my favorites. You can add any kind of nut or seed as well. Flaxseed is a good source of nutrients, and so is flaxseed oil. We like our guys to be creative in the kitchen, so add whatever you think she'll like.
You now have the perfect Mother's Day gift that she will truly appreciate because of how much thought was put into it. See, there really is no need to go out looking for the perfect gift and spending a fortune. Just don't forget the card! If you really want to impress her, make it yourself rather than wasting time in the card aisle at the supermarket. Homemade is better because it comes from the heart, exactly how we like our food.
Later that day make a plan to go out and enjoy yourselves. After all, you've earned it, too! If you plan on taking her to a restaurant, remember it can get very crowded on Mother's Day so make reservations. If you can't figure out where to take her, then let her choose. That way you are guaranteed a happy momma.
I wrote TASTOSTERONE to inspire men to share tasks with their significant other throughout the year and not just on Mother's Day, so we hope you'll heat things up in the kitchen the other 364 days of the year. There is nothing sexier than a man who is confident in the kitchen. Trust me; you will both enjoy the benefits.