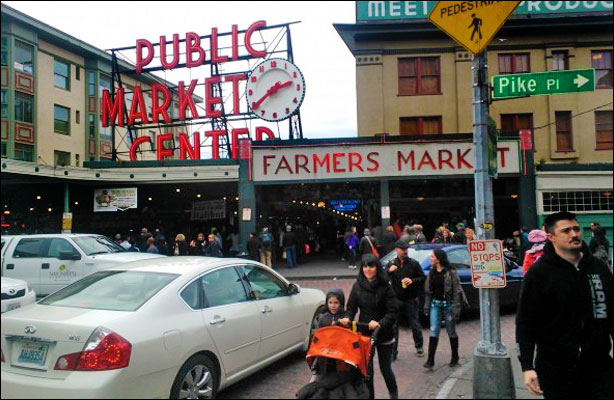 Food and travel are two of the most inspiring and enjoyable pastimes, so why not travel for food? We are all familiar with the well-known culinary cities such as Paris, Florence, New York, Philadelphia and Chicago, but more and more restaurants are making their way to smaller cities and TASTOSTERONE: THE BEST COOKBOOK FOR MEN is on a search to find them.
In my new T-Man Travels Blog, I'll be writing about my monthly visits to cities where you might not expect to find great food, style and service.  The culinary underworld is far more advanced than the eye can see, but I always keep my T-Man's taste buds in mind. So, I'm hitting the road to discover which cities have TASTOSTERONE and where our men like to eat as well as their favorite foods and recipes.
This spring, I took a trip to Seattle. I set out with my expectations low as a devout NYC foodie, but was truly blown away by the city's diverse selection of foods, beauty and style. Seattle gives the West Village in NYC something to think about. I won't deny that NYC has some amazing restaurants, but pinning the classically chic, personally owned joints against each other would make for a very tight competition.
For example, I was really impressed with Delancey in the town of Ballard, or what I like to refer to as the Tribeca of Seattle. The bartenders, or as they prefer to be called, mixologists, pour their specialty drinks, while offering an eccentric array of bitters, along with homemade dishes to accompany the very cool, laid back and comfortable atmosphere. I also recommend ordering their wood fired brick oven pizza.
Brunswick and Hunt is a similar restaurant with a chic vibe that will be opening this September on the same street as Delancey. Brunswick and Hunt is owned by Scott Rogel, owner of the 100 year institution Athenian Seafood Restaurant & Bar. Scott and his family have been in the restaurant business for decades, so their new venture is sure to be a huge success.
Now that we've covered dinner, let's not forget about lunch and my favorite meal of the day, breakfast. The Fat Hen, only open in the morning and afternoon, has a great selection for breakfast and lunch.
Stop by Penzeys Spices for some specialty spices. This is a very cool and unique shop where you can pick and choose from an extensive collection of spices, in many different size containers and bags. The place is well organized and it's easy to find what you're looking for. Just a warning- you will most likely leave with more than you originally came for!
A visit to the Pike Place Market, Seattle's neighborhood market, is a must. T-Men, you'll love the laid back atmosphere. There are more than 200 independent small businesses at Pike Place Market, from locally owned bakeries, seafood, dairy, flower and butcher shops, to the high-end Italian market owned by the DeLaurenti family.
You'll also find one of the largest craft markets in the country, featuring local, handcrafted goods. While you're at the Pike Place Market, enjoy a meal overlooking the water at the Athenian Seafood Restaurant & Bar. Also, don't forget to try Levy's homemade cookies and of course a home ground favorite Starbucks coffee. Be sure to pick up the gluten free specialty spice, Rub with Love by Tom Douglas; my newfound favorite specialty spice. Visit the TASTOSTERONE: THE BEST COOKBOOK FOR MEN on Facebook for a chance to win the Rub with Love Salmon Rub in our June Giveaway.
T-Men, what city do you suggest I visit next? I'd love to hear from you. Leave a comment with your suggestions.