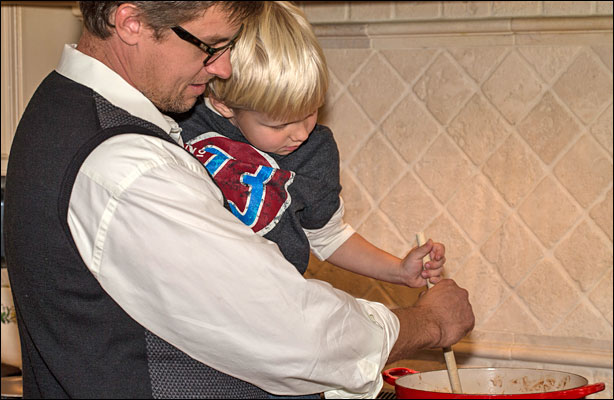 Brainstorming on what to get dad this year for Father's Day? Well, we all know that guys love their toys! From cars and motors to remote control helicopters, guys seem to be attracted to anything that moves, has speed and creates action. So, how about we help them bring some action and speed into the kitchen? Get them cooking up their favorite meals with gadgets that enhance the cooking experience this Father's Day.
Here are a few manly kitchen tools:
Blow Torch
There really is no significant difference between a kitchen blowtorch and one you'd find in the hardware store. Just make sure that the flame doesn't fluctuate when you tilt the torch. Also, I recommend getting one that uses propane gas. Before you buy, double check your guy's toolbox; he might already have one that he can bring to the kitchen! Blow torches are commonly used for making the sugar crust on crème brulée, charring peppers, tightening the skin on fish, and simulating grill marks.
Bluetooth® Meat Thermometer
The iGrill®, an app-enabled wireless Bluetooth® meat thermometer, is a great gadget for those tech-savvy guys. It has dual temperature probe capability so you can monitor two different meats at once and also works as a stand-alone thermometer. It is iPad®, iPhone® and iPod Touch® compatible. It's also compatible with most Android devices.
Beer Can Chicken Rack
This gadget is great for a Father's Day gift. He'll have the most flavorful, tender chicken and it's very simple to use. Just place an open can of beer into the holder, slide a chicken over the can and place it on the grill. The base will keep the chicken stable and balanced while it grills. Make sure you only use a half can of beer. I am sure you'll make use of the rest!
Hamburger Press
Your guy is guaranteed to make the perfect burger with a hamburger press. With this tool, he can make the perfect meat patty and stuff it with his favorite fillings, such as cheese, bacon, or chili peppers. I recommend the Williams- Sonoma Stuffed Hamburger Press with Lifter for a Father's Day gift.
Knife Sharpener
As your guy prepares for battle in the kitchen, he'll need to make sure his knives are sharp. But be careful not to over use the knife sharpener, as it can dull the knives. I recommend the Chef's Choice Electric Knife Sharpener.
Wine Aerator
This is for all the wine lovers. A wine aerator expands the surface area of wine, allowing it to breathe, significantly improving the experience of the wine. The Vinturi Wine Aerator is a great product.
Smoker
This is perfect for grilling season. Smokers cook food slowly over low heat to lock in flavor. From wood smokers to electric smokers, there are a variety of quality smokers on the market.
You might want to consider these Father's Day gifts, too. They're a little on the silly side, but if he's got a good sense of humor I guarantee he'll love them!
Kikkerland Tiki Pepper Grinder
FRED Salt & Power Battery (Salt & Pepper Shaker)
Star Wars R2D2 Nutcracker
Although I believe less is more with regard to kitchen cleanup and gadgets, if a cool gadget gets a guy cooking in the kitchen, I say go for it!
Don't forget to also purchase TASTOSTERONE: THE BEST COOKBOOK FOR MEN, a hard copy or the Kindle version, for dad this Father's Day. It's another tool he'll find useful in the kitchen. We appreciate all the dad advice and feedback that has made it such a successful book.