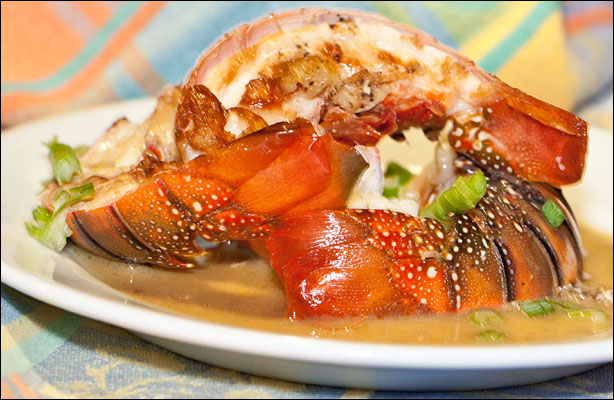 Okay guys, grab your bib… it's time for lobster! Usually when we think of having lobster it's for a special occasion, but why not make it a dish to enjoy anytime? Many of us go out to eat for lobster and it can be very costly, which is why this luxury dish might be reserved for special occasions. But is lobster really that much better at a restaurant, or can it be enjoyed at home and taste just as delicious? You would think you are getting better quality shellfish at a restaurant rather than at a grocery store because the prices are so exorbitant, but that really is not the case.
The price of lobster is tied to the supply of it and how much lobstermen are able to catch – supply and demand. But according to Boston Magazine, the market price on the restaurant menu has only a little to do with the actual price the lobsters are sold at. The price of lobster is set in a market, but the market price you pay is a price determined by the restaurant market, not the market for lobsters. And the issue is a basic one of capacity and competition. Even if the price of lobster decreases at the grocery store, you won't see prices fall on restaurant menus.
Surprisingly, lobsters were not always a delicacy. According to Food52, hundreds of years ago Native Americans primarily used lobsters to fertilize their crops and as bait to catch other, more valuable fish. During the colonial period, lobsters were very cheap and abundant. The demand for lobster increased from the higher classes in New York and Boston during the mid-1820s. Originally, lobster was killed and then cooked but then chefs discovered that it tasted better and looked more appetizing if they cooked it live, which could be why it suddenly became so popular.
So instead of reserving lobster for special occasions, enjoy it any time of the week. Lobster is simple to make, so take a trip to the grocery store and get cooking! My recipe for "Lobsters on the Inside Grill" will have you cooking lobster at home more than you thought you would. I like to use Maine or Brazilian lobster tails. Maine lobsters are typically sweeter and can be found in the frozen section of your grocer.
LOBSTERS ON THE INSIDE GRILL
Servings: 4
Prep Time: 5 minutes
Cook Time: 10 minutes
INGREDIENTS
4 Maine or Brazilian lobster tails, split in half
2 tablespoons olive oil
3/4 stick butter
1 lemon
Salt and pepper
DIRECTIONS
Preheat grill pan over high heat.
Season lobster tails with salt and pepper to taste. Brush them with oil.
Place lobster tails, meat side down, directly on grill to sear. The shell should not touch the grill. Cook for 5 minutes.
Remove the lobsters from the grill, meat side up, and brush with a little more oil. Cover with foil.
In a small sauté pan over low heat melt the butter.
Spoon some butter over lobsters. Serve with lemon wedge.