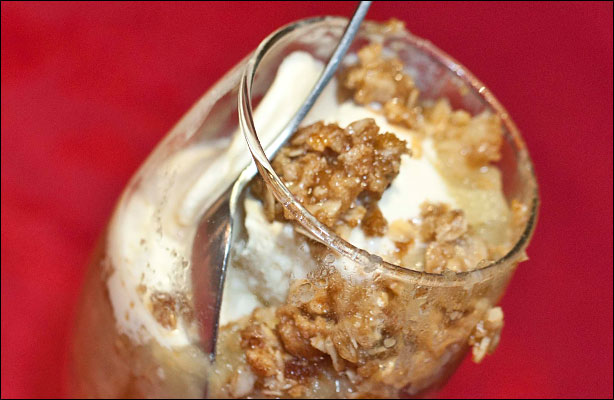 As I always say, there is nothing sexier than a man who knows his way around a kitchen. We know the key to a woman's heart is to wake her up with breakfast in bed, but how about something sweet to satisfy both of you? Surprise your sweetie with some flowers and a delightful dessert and you will surely have a special night. I suggest incorporating what I like to call "sexy ingredients" into your recipe to spice things up.
The "sexy ingredients" I'm referring to are known as aphrodisiacs, which are substances such as foods and scents that increase desire. Although scientific evidence is still in question if aphrodisiacs really work, many people believe they do. It's thought that certain foods can affect your hormones, brain chemistry and energy and stress levels. These foods are arousing because they have psychoactive properties, others are psychologically suggestive, and some can actually increase your blood flow.
Try incorporating these "sexy ingredients" into your desserts for a romantic night:
Bananas
This fruit is considered to be an aphrodisiac not only because of its shape, but because it is rich in potassium and B vitamins, which are said to be necessary for hormone production. Dip some bananas in chocolate and you've got a quick, simple and sexy dessert.
Chocolate
There's a reason why chocolate is such a popular gift for Valentine's Day! Cocoa contains phenylethylamine, a chemical related to amphetamines and raises blood pressure and blood glucose levels. The result is feeling more alert and getting a sense of well-being and contentment.
Pomegranates
Pomegranate juice is rich in antioxidants and promotes blood circulation. It is thought to be a powerful natural aphrodisiac able to increase testosterone levels.
Cinnamon
Cinnamon heats up your body and, in turn, ignites passion. Cinnamon also has anti-inflammatory properties and can help normalize blood sugar. Try sprinkling cinnamon on ice cream or baking cinnamon buns. The smell of cinnamon buns is actually considered to be one of the best aphrodisiacs for men.
Vanilla beans
Consuming vanilla increases catecholamine levels, including adrenaline, a neurotransmitter and fight-or-flight hormone that is elevated during excitement. Vanilla bean ice cream is a great dessert idea and it's very simple. Pair it with my apple crisp topping and you've got yourself the perfect dessert.
My Apple Crisp Ice Cream Topping recipe takes no time at all to prepare, it's just a few sugary sweet ingredients, heated slightly. I prefer to use Granny Smith apples in the topping, but any fruit will do. Choose what's in season and you won't go wrong.