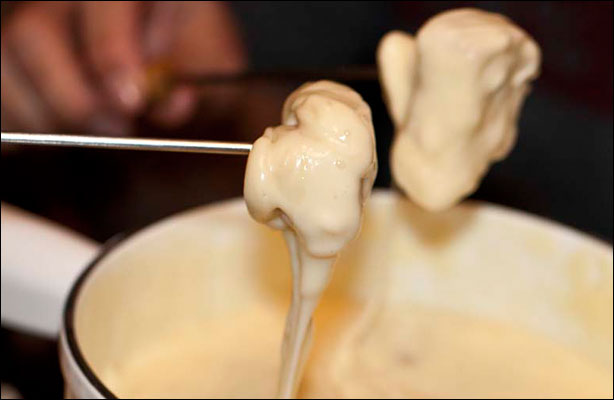 If the fellas of "Mad Men" were as skilled in the kitchen as they were in the office, you would see a meal fit for a king out on the table every night. Back in those days men considered themselves to be the masters of their domain, yet you wouldn't hear of them setting foot in the kitchen. These days, men are proving to really be the head of the household by owning every part of it, including the kitchen.  And a man who is truly the master of the house knows his way around a delicious meal – breakfast, lunch, dinner and dessert. So guys, this Valentine's Day will you show your sweetheart that you are the master of your domain?
You'll be able to own the kitchen this holiday with the help of TASTOSTERONE: The Best Cookbook for Men. Whether your plans are sweet or sexy, we'll give you the tools, tips and techniques to hit an ace in the kitchen and really impress your Valentine.
Our first suggestion is to skip the champagne and chocolate covered strawberries this year. The reason? It's too predictable, unoriginal and you can do better than that! Trust me, if you go out of your way to be creative, it will be noticed and you will be rewarded. Don't get scared though – it doesn't take much to be creative. Even the simplest dishes can win the heart of your Valentine.
Start the night off right with a creative, yet easy-to-prepare appetizer sure to please. Some prosciutto-wrapped melon displayed nicely on a platter is the perfect way to impress your date. Follow that with fondue and cured meats served on the side. For dessert, share a decadent chocolate cake, which you can purchase at the bakery or make yourself, topped with fresh berries and homemade whipped cream.
Whether you're a novice in the kitchen or a seasoned veteran, TASTOSTERONE walks you through each recipe so that your Valentine's Day meal is guaranteed to turn out amazing. Although presentation isn't something to be too concerned about, it doesn't hurt to put a little effort into it, as it will make your dish more appetizing and impress your date.  The key to winning her over this year is creativity and originality. Step outside your comfort zone and own the kitchen.
Guys, remember that food always tastes better when the person you love makes it for you!