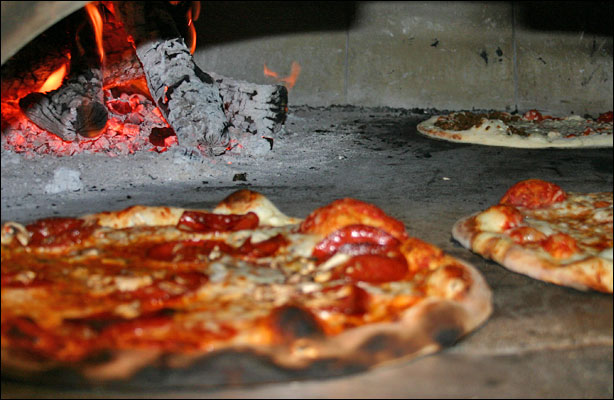 It may be 3 degrees in Jackson Hole, Wyoming right now, but the warmth of the people makes it feel like summer in New Jersey. TASTOSTERONE has set out to find unsuspecting cities that have especially high culinary standards for our T-Man Travels blog. Last April we set out to Seattle and this December we took a trip to Jackson Hole, Wyoming. The cities we choose to visit attract T-Men of all ages, mostly because of the great food and sports.
Jackson Hole was voted the best skiing in the United States this year and is home to many celebrities, but we think it also needs to be commended for its culinary diversity. You'd be mistaken if you think you're only eating elk burgers and nachos in this city! Even if you don't ski, hike, golf or hunt, we recommend that Jackson Hole be on your list of places to visit for some good eats.
I was lucky to meet the head chef of Calico Restaurant, Cody Allen, who once apprenticed at the famous Greenbrier in West Virginia. Jackson Hole is truly lucky to have the kind of talent found in Cody Allen. He takes pride in every dish that leaves his kitchen, from the classic spaghetti and meatballs to the wood-fired salmon and pizza. The wood fired oven adds a real special flavor that you'll taste in every bite. Cody makes his own pasta, homemade sausage and sauces, and also grows his own vegetables. These things bring Calico customers coming back again and again, and are also why this restaurant is one of my favorite must-go-to spots. Guys, there's no need to put on a jacket and tie because Calico is casual; just be sure to bring your appetite.
I also met David Yoder and Jeff Davis, partners/owners of my other favorite must-go-to spot, Mangy Moose Saloon (located at the base of the mountain), as well as the restaurant's Executive Chef Jeff Rettig. Mangy Moose has been around since 1967 and partners David and Jeff have owned it for the past ten years.  This place takes après-ski to a new level and it feels like home as soon as you walk in. The staff is happy and friendly, and in January the ladies call it "Manuary" because the visitors are 90% guys. But don't let this down to earth restaurant fool you. Of course there are the traditional chicken wings, nachos and burgers, but the food is all prepared my hand and you can really taste the difference. If you're looking for a more ungraded taste, try the truffle fries or roasted fennel and beets over field greens.  There is no attitude here; just amazing service and home cooking to fit the most discerning palette.
The Four Seasons has a few places you won't want to miss. Okay, I know what you are thinking… too fancy, right? Well, you'd be surprised that it's really not! Once again, this place has the nicest, down to earth people you'll ever meet and no jacket is required (maybe a cowboy hat though).  The hotel's Handle Bar, also located at the base of the mountain, serves up some specialty drinks and great burgers and fries. Don't pass on the brussel sprouts, they are sweet and crunchy.  Who knew you could have such great food while wearing ski boots!
Visit Il Villagio Osteria and I guarantee you'll want to eat everything that comes out of the kitchen. With simple presentation, the ingredients are the star in every dish.  Dishes on the menu include grilled octopus cooked to perfection, campanelle with cauliflower and smoked pancetta brown butter cream, parmigiano reggiano and citrus zest, braised lamb shank, lasagna and crazy coal oven pizza combo. There are such unique combinations on the menu and nothing served is less than spectacular. I want an Osteria in my neighborhood! Thank you to Stacey and Executive Chef Eric Greenwood for an amazing experience.
Finally make sure to visit the Snake River Grill.  Some of my favorite dishes on the menu include steak tartare pizza, potato pancake with smoked salmon and sour cream (not like the kind you eat on passover) and warm chocolate soufflé. No need to dress up though, you can still wear blue jeans and a t-shirt. Got to love Jackson Hole!
I could go on and on with all the great food you'll find in this city. In addition to the restaurants I've mentioned, here are some others I recommend visiting:
Rendezvous Bistro
Bistro Trio
Sudachi (sushi, great happy hour)
Persephone Bakery (great bread, breakfast and lunch)
Nora's Fish Creek (local breakfast spot, rustic home cooking)
Sweetwater Restaurant (popular local lunch spot)
Come on T-Men, get out to Jackson Hole, Wyoming and let us know how what you think! Leave us your comments if you have any other suggestions for places for foodies to visit in this city.