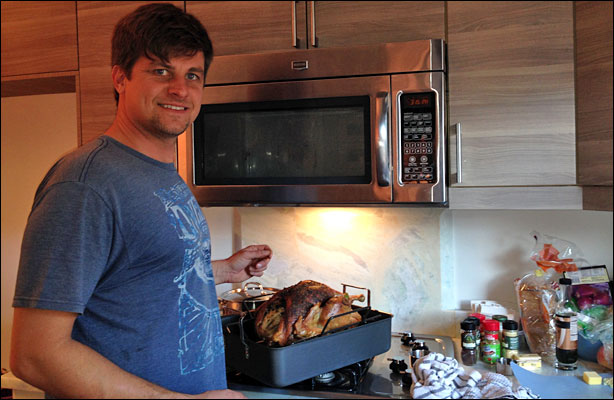 It looks like this Thanksgiving more women will be spending time on the couch watching the Macy's Parade and not in the kitchen preparing the big feast. According to Today, a growing number of men will be cooking the turkey and preparing the meal. Butterball Turkey Talk-Line director Mary Clingman says that 84 percent of men are involved in the meal and 42 percent are involved with the actual turkey. Rather than roasting the turkey in the oven, it seems as though more men are going to be putting their own take on the traditional Thanksgiving bird by grilling or deep-frying. There is nothing sexier than a man who is confident enough to get creative and try something different, rather than stick to the classic way of cooking the meal!
In the article, T-Man Carlos Faxas, a 31-year-old e-commerce manager for United Airlines in Illinois, talks about his experience with cooking the Thanksgiving turkey. Carlos has been tackling the turkey every year since he was in high school. He brines and roasts, but one year decided to experiment with deep-frying. He mentions that he uses a meat thermometer that links to his iPhone so he can keep an eye on his turkey without having to be in the kitchen. He may be talking about the iGrill®, an app-enabled wireless Bluetooth® meat thermometer, which we list as a gift idea in our Father's Day post.  The app will alert you on your smart device when your food is cooked to perfection.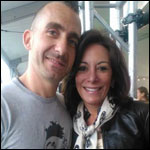 Maybe these T-Men are taking inspiration from some of the top male chefs who also show confidence and creativity while they heat things up in the kitchen, such as Rocco DiSpirito and Chef Michael Anthony. I spent some time with these talented chefs at the NYC Wine & Food Festival in October (photo left: Debbie with Marc Forgione at the event) and had the chance to enjoy some of their culinary creations. Guys, if you're still feeling brave after Thanksgiving, maybe you can take on Chef Michael Anthony's delicious and inventive compressed apple and smoked tomato dish (photo below: Debbie's favorite dish from the event)!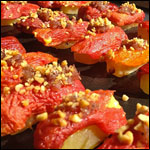 Ladies, while your man is taking care of the turkey, whip up some classic side dishes, such as sweet potato casserole or mashed potatoes. Or if you're feeling creative and untraditional like your T-Man, give these classics a modern makeover. For instance, rather than sweet potato casserole, make sweet potato gratin. Try Chef Robert Irvine's Home Sweet Potato Home Au Gratin recipe.
This Thanksgiving, we are thankful for confident and creative men who aren't afraid to take this holiday meal to the next level. We would love to hear what you've cooked up for Thanksgiving. Leave us a comment or share your meal with us on the Tastosterone Facebook page!