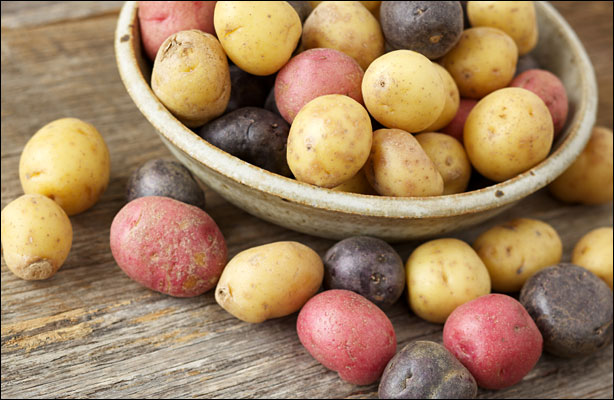 Potato, potaaato! Any way you slice it, boil it, mash it, fry it, or bake it, the potato is the crowd-pleasing spud of any meal. As there are so many types of guys, there are as equally as many varieties (5 thousand to be exact!) of potatoes. They are low in cost, long on shelve life, and a snap to make. A few of my favorites include Yukon Gold, Fingerling, Red, Baking and those baby spuds.
5 Men and Five Ways
You may be able to tell a lot about a man by his potato. Men today enjoy many types of foods and are bringing some of that cultural flavor they enjoy in the restaurants into the kitchen. Try these dishes and you may just find your sex appeal à la the spud and some new flavors!
The Pierogi
This Polish T-man loves his potatoes nestled in a bed of buttery dough. He flaunts his European flare for making something so simple, so sexy.
The Roasted Potato
This traditional T-man prefers a simple, classic dish that says it all. Less is more for this guy.
The French Fry
This T-man is an all-American. Nothing tops midnight fries and a coke at the diner, if you didn't make it yourself. Who knows what fries can lead to?
The Gnocchi
This sexy Italian T-Man uses potatoes to make this delicate classic. Italy may be the land of love, but this T-man brings home the romance.
The Potato Frittata
This Latin T-man tosses up his spuds with cheese, beans and eggs. He heats things up in the home, day or night.
2 Guys and Their "Spudly" Dishes
At Tastosterone, we asked a few of our T-men to give us their favorite potato recipes and here's what they came up with. We'll let you be the judge.
Roasted Potatoes from Dan Grotsky, Husband and Dad, Israel
"O.K. Debbie, here it goes. This is a potato recipe I made up, never fails (although it's the first time it's actually being written down). Enjoy!"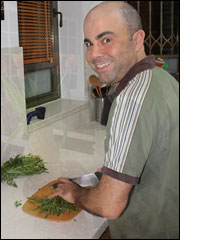 Ingredients
2 lbs. whole new potatoes, unpeeled
8-12 shallots or small onions, peeled
2 whole heads of fresh garlic, halved through all cloves
A few nobs of butter
1/3 cup strong extra virgin olive oil
3 sprigs fresh rosemary, whole
3 sprigs fresh thyme, whole
1-2 bay leaves, fresh or dried
Lots of salt and freshly ground pepper
Chili flakes (optional)
Directions
Preheat oven to 350°F.
Mix all ingredients carefully in large dutch oven, preferably ceramic. Arrange sprigs on bottom and oil and butter on top.
Bake for one hour covered.
Gently toss ingredients in juices to keep from drying.
Continue to bake uncovered until nicely browned, approximately half an hour.
Serve piping hot.
Italian Potato Chips from Anthony G. Sarra, Husband and Dad, New Jersey
"Real men say potato Debbie! I recommend you serve this recipe up with grilled Rib Eye Steak and steamed broccoli. DO NOT forget the ice-cold beer! Molte Bene!"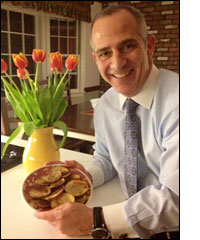 Ingredients
4 large potatoes, sliced thin with skin on
2 tablespoons extra virgin olive oil
Garlic powder to taste
Coarse sea salt to taste (the *star ingredient)
Freshly ground-cracked pepper to taste
Directions
Preheat oven to 375°F.
Place on a foiled lined cookie sheet and coat skins in extra virgin olive oil.
Separate potato slices on sheet and try not to overlap too much.
Sprinkle potatoes with garlic powder, coarse sea salt and freshly ground-cracked black pepper.
Bake for 45 – 50 minutes until crispy brown.
Remove from oven and enjoy.