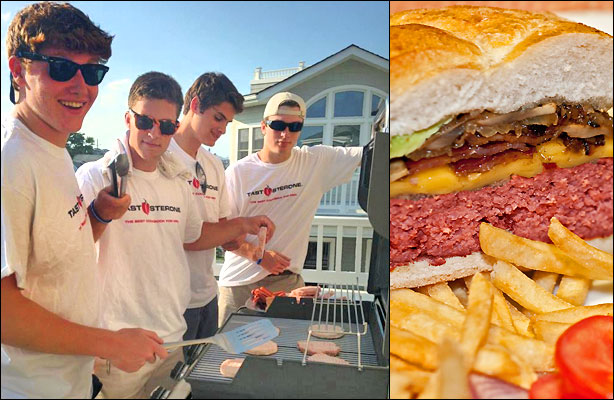 You know it's summer when you're driving with the windows down on a hot sunny day and you hear the lyrics "You got that top pulled down and that radio on, baby." Don Henley might have set the mood for the season with his song "The Boys of Summer" but even after all these years there is nothing better than guys with TASTOSTERONE showing off their grilling skills.
Although my goal is to get guys to sharpen their culinary skills by cooking in the kitchen, no one can resist being outdoors barbecuing on a hot summer night. So for now, I want to see my T-Men take what they know outside and get the grill fired up! Grill master Chef Bobby Flay has the right idea.
There are many foods a guy can cook up on the grill; however, I have to admit my favorite is the classic burger. Whether it's made with beef, chicken, turkey, or salmon, nothing beats burgers on the grill. The great thing about grilling burgers is that it gives you a chance to really be creative with your choice of meat, seasoning, toppings and sides.
The origin of the hamburger isn't clear, but it's believed that the version that first appeared in United States in the 1800s, known as the Hamburg steak, was introduced by sailors who visited the ports of Hamburg, Germany. It was served as a meat patty that was quickly cooked on the grill and placed between two pieces of bread. The hamburger has evolved much over time, ultimately winning the title of BBQ favorite. Not only do we see the hamburger at most summer BBQs, we also see it featured on menus at restaurants across the nation from fast food chains to five-star restaurants.
Whenever I'm craving a classic burger, I go straight to my mother's recipe. You can never go wrong with these burgers. Serve them straight on a bun or add tons of your favorite toppings. The sky's the limit with Grandma Barbara's Burgers! Enjoy the summer boys!
Thank you to the boys of summer at Lawrenceville School for submitting their photo at the grill!