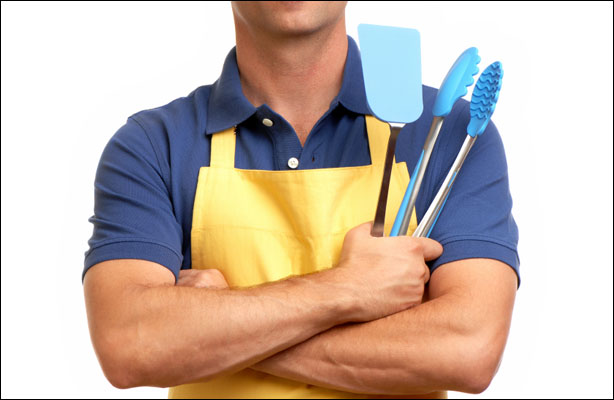 We all know a man thrives off a little competition! Whether it's a game of football, seeing who can eat the most hotdogs or who can get the girl, men just love to compete. I think the perfect competition is one combining food and ego, where the men bring tastosterone to the table. What could be better than confident men in the kitchen, taking pride in whipping up their signature dish? This is why cook-offs have recently become so popular.
Some cook-offs are informal, where people are mainly just interested in getting together to share recipes and enjoy good food, while taking part in a little friendly competition.  Other cook-offs are large-scale events with a panel of judges and prizes for winners. One of the most well-known cook-offs is Throwdown! with Bobby Flay, a Food Network TV show in which Chef Bobby Flay challenges cooks renowned for a specific dish or type of cooking to a cook-off of their signature dish.
Bobby Flay is known far and wide as one of the best chefs in the industry, so to get the chance to compete against him in a cook-off is truly an honor. As a resident of Monmouth County, NJ, I was thrilled to hear that Bobby Flay will be competing against Chef Drew Araneo of Drew's Bayshore Bistro in Keyport as part of New Jersey's Stronger Than The Storm Campaign. The VooDoo Shrimp Throwdown is free to the public and will take on Thursday, June 27 at 2 p.m. on the Keyport Waterfront. Chef Drew's VooDoo Shrimp is a Jersey Shore favorite, so this competition is sure to get heated!
I got a chance to speak with Chef Drew about his feelings on cooking with Bobby Flay. He said, "I feel great about it. I'm a little nervous but mostly excited because this is not something you get to do every day. I've never met Bobby Flay before, but I heard he's a great guy so I'm really looking forward to meeting him and doing the cook-off." I also ask him if he altered his VooDoo Shrimp recipe at all for the competition and he said, "Nah, there's no reason to change the recipe. It's great the way it is." I asked him what his secret ingredient is, but he wouldn't tell me. He simply laughed and asked me if I was a spy for Bobby Flay. No worries Drew, I'm rooting for you!
Best of luck to both Chef Drew and Chef Bobby Flay! I'm looking forward to seeing what these T-Men bring to the table.